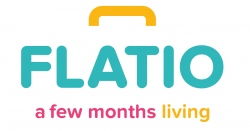 Rent your flat in Bratislava for few months with Flatio.
Fully equipped flats and without any commission and deposit!
Get a 100% discount for booking fee with promo code ESNSK.
Move in now and live with style, click here.
The Flatio company is expert at medium-term rentals. It is intended especially for those who want a few-month-long accomodation, most often for business visits, studying, staying as part of the Erasmus Programme or while reconstructing their own home. And also for those coming to visit their famil and friends from abroad.